Installations by Fineline Lighting
As well as supplying lighting, rigging and video for events, Fineline can also install fixed equipment for theatres, schools and public spaces.
We would love to discuss your project with you. We are the go to company when it comes to rigging installation.
Recent installs include:
Lighting for Brixton Market
Bristol Old Vic Theatre School rigging points installation
Speaker installation in Old Market Assembly
Theatrical installation in St Joseph's Catholic Primary School in Portishead.
Brixton Village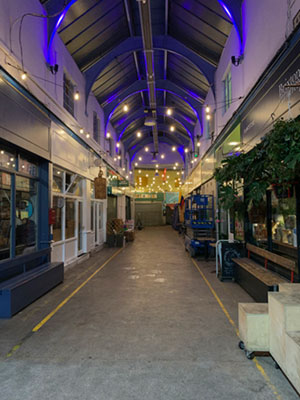 At the end of 2020 Fineline Lighting was contracted to provide a new lighting system for Brixton Village.
The planned four-week overnight install was completed in just over three weeks.
General Manager Diana Nabagereka commented: "There was no overselling, with Fineline. They understood our needs clearly and provided a solution, with no frills. They presented the festoon lighting option, which has been tried and tested in a number of retail and dining locations. The result is a now transformed environment. It was a large-scale installation with over 1,000 lamps, spanning 30,000sqft. The team worked fastidiously, in a professional and highly efficient manner.
Working with contractors can often be fuelled with unexpected delays and additional cost. None of these were experienced with Fineline. They were a pleasure throughout, and went above and beyond at each stage, including a follow up tutorial of the system."