18-05-2016
This year the BBC's 6 Music Festival landed in Bristol, with lighting for two stages at vibrant nightspot Motion - one of the main venues - supplied by locally based rental company Fineline to another stunning specification and design by the event's LD Tim Routledge, whose current clients also include Take That and E.L.O.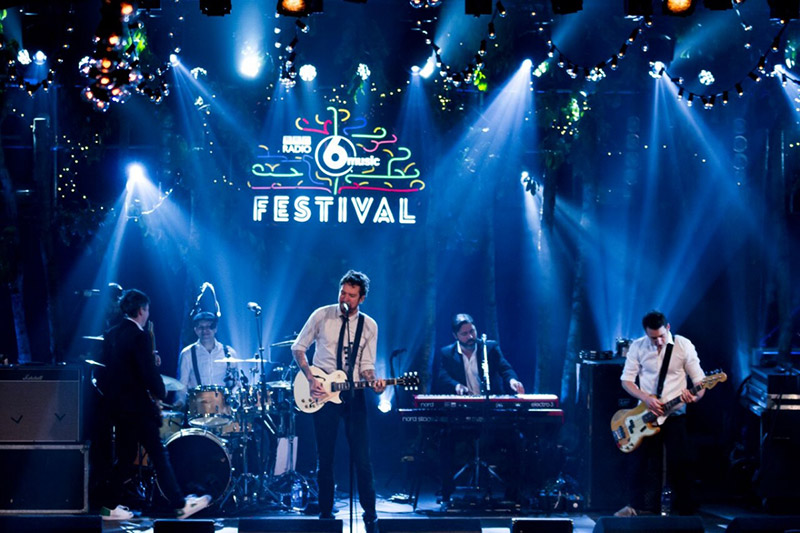 Motion hosted two stages for the three days of exciting and eclectic live performances – headlined (in Motion) by Primal Scream, Suede and Foals, with action from the Main Stage broadcast live on 6 Music across the weekend, and highlights available to watch via the BBC's red button and BBC iPlayer.

Motion's second room, the Skate Park, featured some serious raw talent and rising stars like Yeasayer, Field Music, Beirut and The Invisible.

In keeping with the BBC's desire to utilize local rental companies, Fineline was contacted by Tim Routledge to quote on the job, and once confirmed, he designed lighting for Motion's Main Stage based on their stock. It's the third year that Tim has designed lighting for the event and each year the idea is to create a distinctive and defining visual aesthetic.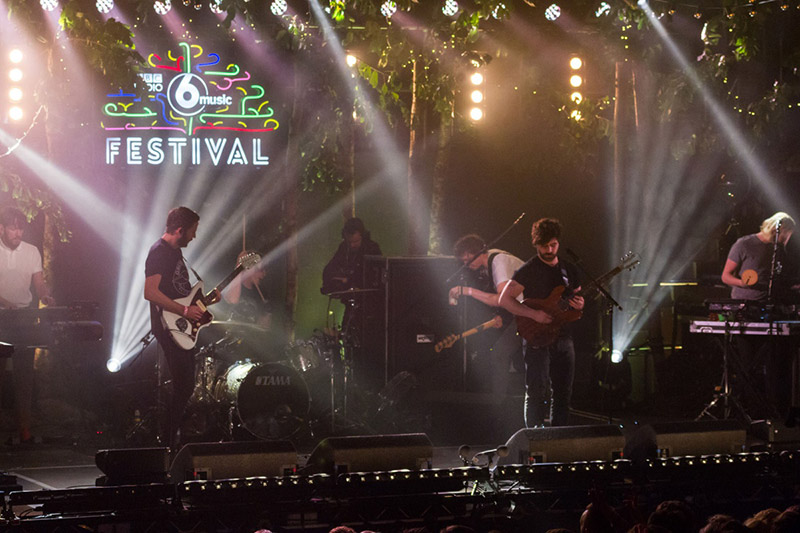 "We were really excited to be involved in this high profile event" stated Fineline project manager Stuart England, "and very honoured to be contacted by someone of Tim's calibre and asked to work with him and the BBC. We really enjoyed the experience – the results looked fantastic!"

Fineline also happens to be the preferred lighting and visuals supplier for Motion, and so their regular crew are familiar with the venue – a charismatic former warehouse at the back of Bristol's Templemeads Station - and its nuances.

A bespoke 30ft wide by 16 ft. deep ground support system was installed in the Main room. Due to the roof weight loading limitations, this was anchored to the ground via its back legs with the front points picked up by motors rigged directly to the industrial crane – dating back to its days as an active marble warehouse - that runs length ways down the building. The front truss was also flown directly off the crane.

The moving lights were all Robe, with 20 x Pointes, 18 X LED Beam 100s and 10 x LED Wash 600s, joined by 6 x Atomic strobes, 18 x Miltec LED PARS, 10 x Showtec active Sunstrips, 18 x ETC Source Fours with assorted lenses, 6 x 1.2K fresnels and 16 x 4 lite Moles for audience illumination.

Of these, eight of the Pointes, all the LED PARs, and the Sunstrips were on the floor.

The LED PARs were used to highlight assorted foliage set pieces decorating the stage – one of the event's regular visual components. The Sunstrips were used more unusually as footlight strips along the front of the stage to introduce subtle key lighting for the low angle camera shots, a technique that was very effective.

To recreate the 6 Music Festival's signature tungsten look, 12 x 50 meter runs of festoon were strung, canopy-style, above the audience ... Fitted with an impressive total of 1680 15W clear golf-ball festoon lamps.

Along with all the stage lighting, these were run from two grandMA2 light consoles programmed and operated by Tim's design associate, Tom Young.

Tim Williams and Will Dale from Fineline looked after all the tech'ing, with James Harrington working as rigger on the in and the out, where his intimate knowledge of the venue – he ran the house lighting and visuals for many years - was invaluable, especially when maximising the roof weight capacity to ensure Tim was offered the highest production values to accommodate his design.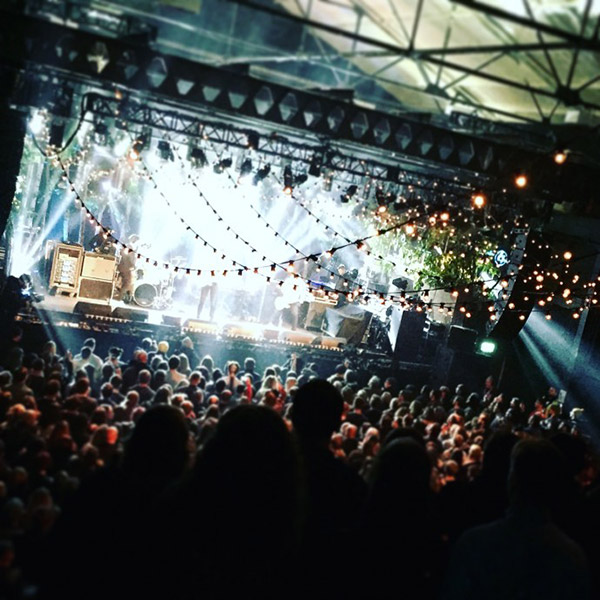 In the Skate Park area - a similar size to the Main room - the raw, grubby, urban feel of the surroundings added a resonance and a vibe for all audience and artists alike.

Lighting in here was designed by Stuart England, and the rig was spread over a front truss and four 8ft high vertical truss towers onstage.

Four 6-lamp bars of PARs provided the key lighting and 12 x 2-lite Moles on the front truss worked well for blasting the audience.

The moving lights comprised 12 x Chauvet Rogue R2 Beams and 12 x R2 Washes, combined with 14 x Miltec LED battens and four Atomics.

An Avolites Arena for control (with Quartz backup) was programmed and run by Fineline's James Box, with the multi-tasking James Harrington looking after dimmers.

Tim Routledge commented, "The easy route on this might be to speak with one of the bigger national rental companies that we use regularly, however I really enjoy reaching out of our comfort zone and working with local resources … and every year it's been great! This year was no exception. Turning to Fineline for one of the main stages, we were looked after really well and the result in this idiosyncratic site-specific venue was just perfect for the vibe of the festival, and the BBC were thrilled yet again.

"Stuart's team were keen, flexible and just cracked on with it! A result!"
08-03-2016
Bristol based lighting, rigging and video rental specialist Fineline is the first UK Company to purchase one of Avolites' new Arena lighting consoles - serial number 001 - a cool and innovative product launched earlier in the year at the Prolight+Sound Expo in Frankfurt.

Fineline has been a big investor in Avolites control, particularly in the last two years explains MD Rob Sangwell, with a selection of Tiger Touch, Tiger Touch Pro, Quartz and Pearl Expert ranges in their hire stock which are constantly in use. "Avo has always been a powerful and simple to use control surface," says Rob, "And apart from making some of the best 'live' consoles on the market, the service and backup has also been fantastic!"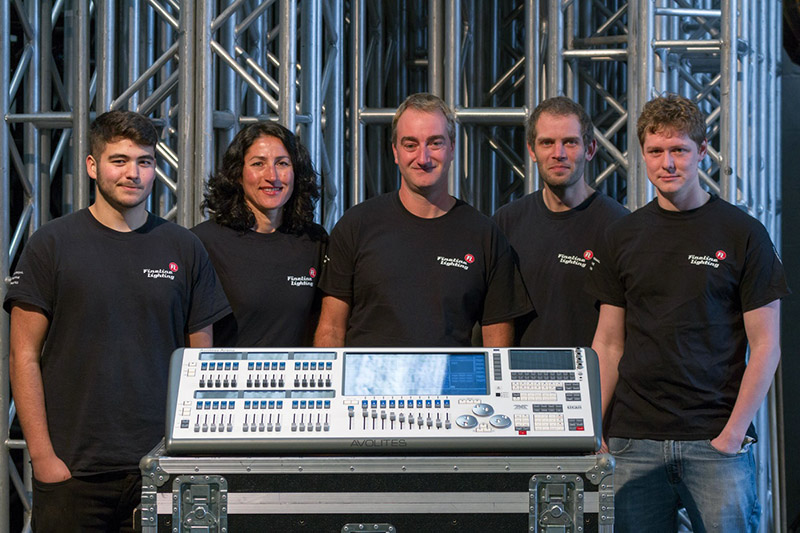 Stuart England, Fineline's Operations co-ordinator said, "The Arena ticks all the boxes for us. It builds from the popular Tiger Touch operating architecture … with extra faders to retain that old skool buskability for which Avo desks are famously well loved, together with plenty of innovative new and updated features … so this will keep many LDs happy".

He adds that the additional touch screen and four playback pots will work well with Key Frame Shapes, a new feature in V9 of Avo's robust Titan OS.

From a technical standpoint, Stuart adds that the internal network switch and UPS reduce the amount of kit needed at FOH and simplifies the plug up – less clutter, more space and more room to work smart at FOH!

The built in optical CON makes it future proof in an era where more and more shows are using pixel mapped fixtures that are hungry on DMX universes!
Stuart also underlines Rob's comments about the great support from Avo. "They are there for you any time of day or night and understand the pressures and challenges involved in any live situation plus the fact that … the show must go on whatever! This is as important as the product itself".

Being designed for festivals, theatres and anywhere needing a larger control surface, the Arena is just the right size for Fineline's current workload, and has plenty of headroom to allow LDs to create the most interesting shows!

It combines the popular Tiger Touch II interface with 30 additional Playback faders plus expanded live control options and features. A second touch screen alongside the main display provides an additional workspace window, and more labelling for the adjacent macro buttons and rotary pots. These fully assignable playback encoders allow intuitive control of channels and effects. The six LCD screens display electronic legends for 30 faders, for quick and easy access to all the playbacks, fixtures and palettes.

Rob is also impressed by the networking facilities, "Especially useful for festival scenarios" where they are running 'house' and production lighting systems, with artists bringing in floor and specials packages that can be accommodated really easily and effectively.

Fineline has also recently been using its Avolites AI servers to run video for a variety of shows. "It's a great brand with a solid history, a great reputation … and some fabulous people," concludes Rob.

The Avolites Arena is available to hire now from Fineline Lighting.