21-09-2015
Bristol based lighting and video rental specialist Fineline enjoyed another 'Sessions' season at the Eden Project in Cornwall, providing production lighting, LED screen, trussing and rigging for the 2015 Eden Sessions - seven high profile concerts with a diverse line up including Elton John (2 shows), Paolo Nutini, Paloma Faith, Motorhead, The Stranglers, Spandau Ballet and Ben Howard.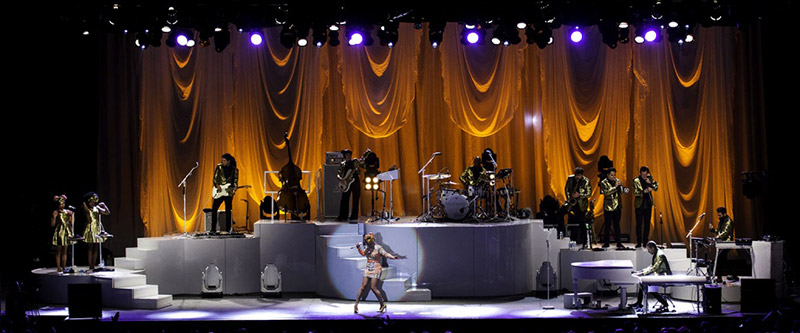 The Fineline team led by Rob Sangwell, were delighted to be back at this very special location for the third consecutive year, and once again worked closely with the Sessions events' Production Manager Andy Cotton and his team from TAO Productions.

Using the Eden Project's eye-catching crescent shaped tensile structure as a roof for the stage, Fineline made some additional modifications to the ingenious hybrid part-flown-part-ground-supported system they have developed to facilitate the 17 meter wide by 11 meter high supertruss mother grid and stage space.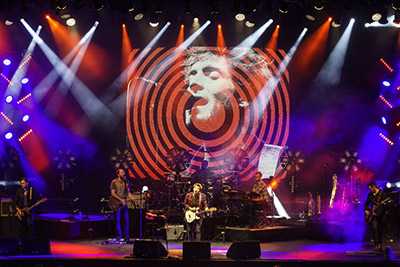 On the mother grid a flexible all-round production lighting rig was hung, designed to offer a comprehensive lighting package to acts utilizing the 'house' system, with capacity to accommodate visiting productions' flown and floor based packages smoothly and seamlessly.

This year improved draping - incorporating around 750 square meters of blacks - added to the overall aesthetics, producing a more finished and theatrical look, with clearer definition to the stage area.

Fineline's Stu England created the house lighting scheme, flown on three 16 meter wide LX trusses and incorporating 18 x Robe LEDWash 600s, 18 x Robe 600E Spots and 12 x Robe Pointe moving lights, plus 12 x bars of 6 PARs, 20 x ETC Source Four profiles for specials and keys and

8 x 4-lite and six 8-lite Molefeys for a bit of audience interaction.

The stage floor was kept completely clear to allow easy access for guest lighting packages.

Another upstage truss was provided to fly the house LED screen, made up from around 40 square meters of Lighthouse R7 LED panels, measuring 8.5 meters wide by 4.5 high.Fineline supplied all the necessary processing and scaling, leaving the front-end free for visiting productions to hook in their respective media servers and control systems.

A final far-upstage truss was utilized for stage blacks, cloths and backdrops.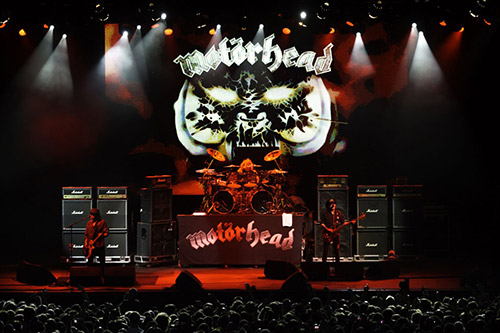 A large ArtNet data network was installed to ensure control was adaptable and fully accessible, with an Avolites Sapphire Touch as the house console and four ArtNet and four DMX lines running between FOH and stage via Fineline's ChamSys R8 Nodes. This was designed to allow incoming grandMA - and other – desks, plus assorted video controllers, to easily be connected.

All the dimming and DMX buffering was Avo. The network was installed by Stu and tech'd for the events by Will Dale.

The Eden Project's six famous Biomes were also lit for the concerts, becoming an attractive and intriguing part of the event landscape.

They had been lit in previous years, but always as a static architectural installation. That changed this year, and for the first time visiting LDs could integrate this cool environmental aspect of the location into their show if desired.

This was achieved with the help of a WDMX system, with a transmitter stationed at the stage and receivers in every Biome.

The Biomes themselves – which house thousands of plant species - were lit with some of Fineline's new Chauvet kit which included 32 x IP rated LED colour changing floods – needed because the tropical domes are around 40 degrees with 100 per cent humidity … and have a hyperactive ant population!


The two biggest biomes also had a high-powered Dominator flower effect added to project breakup patterns on the inside of the roof. "This definitely brought a new layer of depth to the overall visual picture" commented Rob.

Fineline's crew – in addition to Stu England - were Ruben Pinkney (Crew Chief), Steve Armstrong (Rigger), Tim Williams (Racks) and Will Dale who co-ordinated the incoming LDs and managed the network. They were joined by Peran Odgers as rigger and Sam Kenyon as lighting tech on the in and the out.

"It was another great Eden Sessions" stated Rob, "All the acts were very happy with the production elements, as was the Eden Project. The whole production team did a fantastic job and it was a pleasure to be involved and play our part."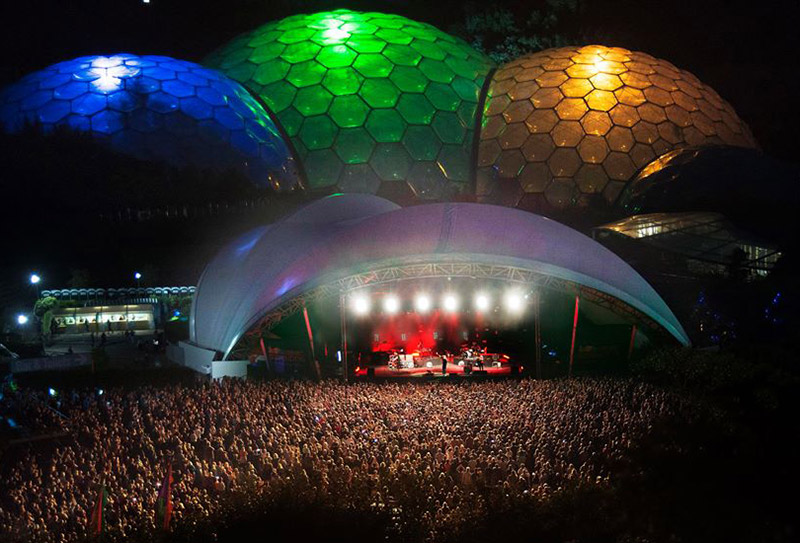 29-09-2014
Bristol based lighting and visuals rental specialists Fineline supplied lighting, LED screen, rigging and crew to the 2014 Eden Sessions, a diverse series of music performances staged at the Eden Project in Cornwall, UK, one of the most atmospheric and magical settings in the country.
For the second year, Fineline worked closely with Andy Cotton of TAO Productions, who production managed the events and co-ordinated all technical aspects. The Sessions ran over 5 weeks and featured a star-studded line up including Skrillex, Dizzee Rascal, Katy B, Ellie Goulding, Elbow, The Pixies and others.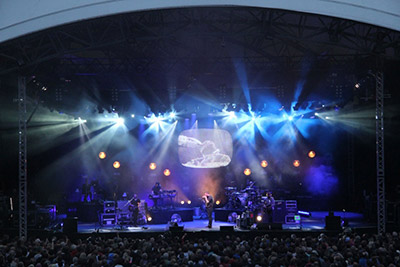 Fineline's Rob Sangwell explains that they designed a highly flexible and practical 'house' lighting rig, designed so all the touring bands could come in 'underneath' with their respective touring packages. Lighting for each gig – although based around the fixtures available in the house rig – also emulated the artist's touring lighting schemes as far as possible.
The stage at Eden is beneath an elegant, distinctive crescent shaped tensile roof, and so all rigging has to be integrated with this. A hybrid design has been evolved to facilitate the 17 metre wide by 14 metre deep super-truss mother grid that is part ground-supported and part-flown. This in turn provides all the required lighting and video rigging positions.
"It took a bit of working out initially," explains Sangwell, "But now the concept exists it is proving an ideal and very adaptable solution".
Once the mother grid was inplace, they sub-hung their three x 15 metre lighting and one 15 metre wide video trusses below, plus a drapes truss at the back, with allowances made for accommodating additional artist 'specials'.

For lighting, the house rig lighting comprised 18 x Robe 600E Spots, 18 x Robe LED Wash 600s and 12 x Robe Pointe multi-purpose luminaires, together with a healthy splattering of 2, 4 and 8-lite blinders, 16 x Martin Atomic strobes and 16 x ETC Source Four Profiles at the front for essential key lighting.
There were also around 72 PARcans on the rig for general washes and stage cover, as well as for support acts, etc.

The house control was Avolites dimming and ChamSys SnakeSys R8 ArtNet nodes and Avo DMX buffers for data, with an Avo Tiger Touch as the house desk. All the visiting LDs brought in their own grandMA2 consoles, all of which were integrated into the ArtNet control network.
For video, Fineline supplied 48 panels of Lighthouse R7 LED screen, which was reconfigured for different acts, with the 'standard' house configuration being one 16:9 upstage block of screen.

For Elbow – designed by Cate Carter – they needed more screen, so 44 square metres was installed for this show, set up as a 14.5 metres wide and 3 metres high surface at the back to dovetailed with their touring video package.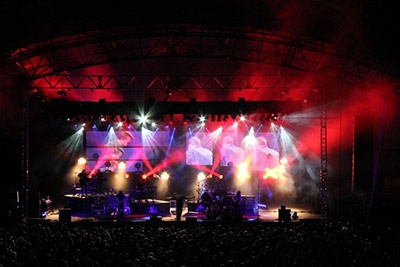 The LED screen was hooked into the touring media servers / control systems in each case again integrated via Fineline's ArtNet data system. This aspect of the project and all associated geekery was co-ordinated for Fineline by Stuart England.

Cate Carter also created the lighting and visual design for Ellie Goulding, which was out with Robin Haddow as Lighting Director. Says Sangwell, "We all enjoyed working with Cate again, who we've known for some time as she comes from the area. She's always been a talented designer and it's great to see her career rocketing to where it is now… especially with her local connections".
Fineline's other crew were Wingnut, Tim Williams and Sam Kenyon all on lighting, Martin Jacobs looking after the video and riggers Steve Armstrong, Peran Odgers and Ruben Pinkney.

They also lit three of the famous Eden Biomes for the shows, which made a beautiful and eye-catching backdrop to the whole scene, adding a fantastic visual flourish to the excellent vibes and music.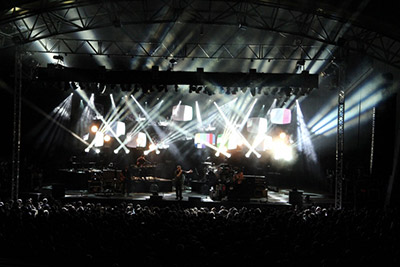 "It was fabulous to be part of the TAO Productions team again and working on an event that's a bit different from a standard music festival. Everything was well organised and based on high production values which is always good. We were lucky with the weather, Eden is a genuinely amazing place to work … and we all love it" concludes Sangwell.