20-09-2016
Fineline supplied lighting for two venues – Main Stage and Club XX - at the six day 2016 Snowboxx Festival staged in the spectacular French Alpine ski resort of Avoriaz. The event now in its fourth year, is a week of activities culminating in three days of music in an intimate 4000 capacity boutique festival for lovers of snow sports, dance music and great vibes.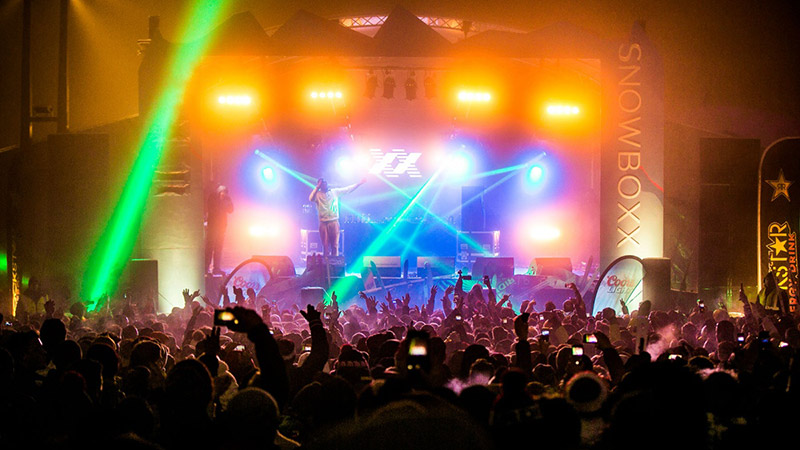 It was the first year that Fineline has been involved as a technical supplier. Stu England designed the rigs for both areas, which were based on being flexible to give all the artists as many options as possible for their sets to look individual and interesting, delivering excellent 'bang-for-buck'.

The Main Stage was outdoors on the slopes and comprised a 12 meter roof system beneath which Stu and the Fineline crew sub-hung four finger trusses running upstage / downstage.

With limited space and weight loadings, when it came to the choice of moving lights, the smallest, lightest and brightest fixtures able to produce the maximum amount of looks … were selected and rigged on the fingers.

This included 12 x Pointes, 12 x LEDWash 600s and 12 LEDBeam 100 moving lights – all Robe – plus six Martin Atomic strobes, 12 x 2-lite Moles and a string (of 8) ACLs in the air and another on the floor for a bit of retro beam technology.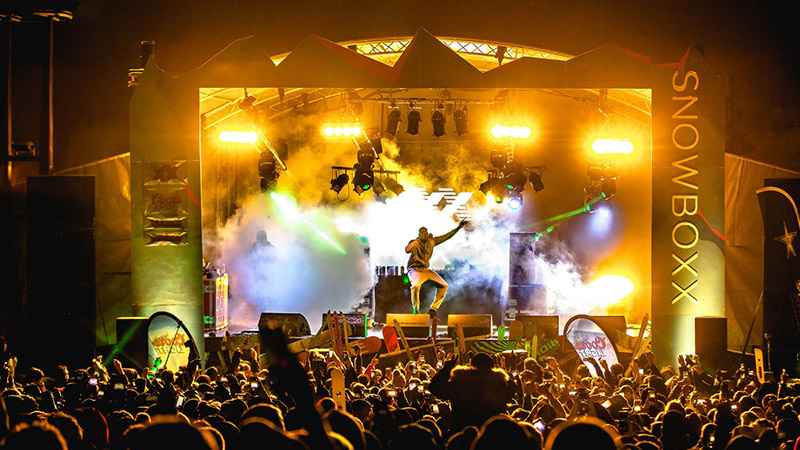 There were also four 4-way bars of PARs for general stage washes.

"I went for a mathematical formula – everything was divisible by four … apart from the Atomics, but it's always good to have a curved ball in the mix!" explained Stu.

The two sets of ACLs were diligently focused to replicate a light-beam version of the distinctive double-X Snowboxx branding, so this could be incorporated into the lighting.

Upstage was a truss on two motors that could be flown in and out to accommodate artist backdrops.

All lights were controlled via an Avolites Arena console, and only one band brought their own LD, so Fineline's Will Dale operated for most of the rest, assisted by James Harrington on dimmers / general technical.

The idea in Club XX was to freshen up the resort's own venue which had a basic house lighting rig, some of which was utilised.

Four of the five meters of stage width was usable … so they added six Chauvet Rogue R2 Beams, six R2 washes, 16 x Miltec LED battens, two Atomics and four 2-lite Moles, with an Avo Tiger Touch console for control.

The line-up here was all DJs so the lighting formula was to produce lots of straightforward exciting kinetic and colourful club-style lighting.

Fineline's package also involved the design and fabrication of a set for Club XX.

A 6 meter high by 4 meter wide trussing goal post was the superstructure onto which was hung a set of inverted wooden flats cut in the shape of a mountain range with screen material in the middle. This allowed it to be lit from both front and behind giving a proper 3D impression created with the Miltec battens inserted into the gap between the two sets of flats.

The end results were highly effective in producing colour changing and other effects to make the space funky and fresh.

The front of the DJ booth was clad in a scenic XX logo, also cut out of a wooden flat and back-lit with Miltec LED PARs.

Looking after the club's lighting from Fineline were Sam Kenyon and Jonnie Westell.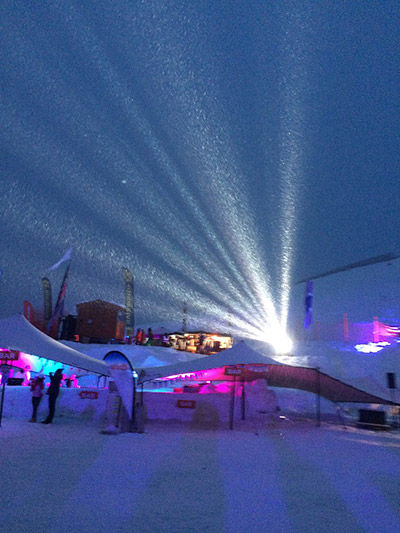 In addition to these, site wide architectural lighting strategically positioned around the extensive site included 30 x Chauvet SlimPAR 24s which are IP rated and ideal for this application, plus 20 x 400W MBI floods and six source Fours used for gobo art.

Fineline used their extensive experience of scenic festival site illumination, lighting the slopes behind the main stage with more LED PARs shooting up the piste – a surface that takes light particularly well.

"It was the architectural elements that were the real challenge both in design terms and the practicality of powering, running data and rigging them," explained Stu. Carrying fixtures through serious snow is a lot harder work and more time-consuming than running around on a green-field site!

There was also a small sub-venue – Igloo – which ran just for one night, for which Stu and the team supplied four Robe Pointes, two fitted with custom gobos projecting the XX logo up the side of the mountain, plus four gas powered Flame jet machines ... all run from an Avo Quartz console.

Stu concludes, "It's great to be involved with an up-and-coming event like this which is being organized by nice people with a genuine love of music and on a mission to deliver great production values to their fans".